I am so immensely proud of these pupcakes! I absolutely could not wait to share these. At the end of October, Karma turned 11 years old. My family has done such a wonderful job taking care of her her whole life. She has some special needs and she has had some tough times, but with love and care, she has pulled through. The fact that she made it to 11 and is living a good life is a true blessing. To commemorate this wonderful event, I wanted it make her something special that I knew she would love.
It's funny, but making homemade dog treats has been a good way to determine our dogs "favorite flavors." They are so smart and their noses are so incredible. They can tell which treat is which and we always pay attention to their reactions. Some dogs like just about anything the same, and some have a few foods that you know they definitely don't like, but some have favorites, just like us humans. We discovered Karm loved sweet potato when my mom fed her raw pieces of it and she went crazy for it! She kept going back and begging mom for more. Since then, we have known what her favorite flavor is.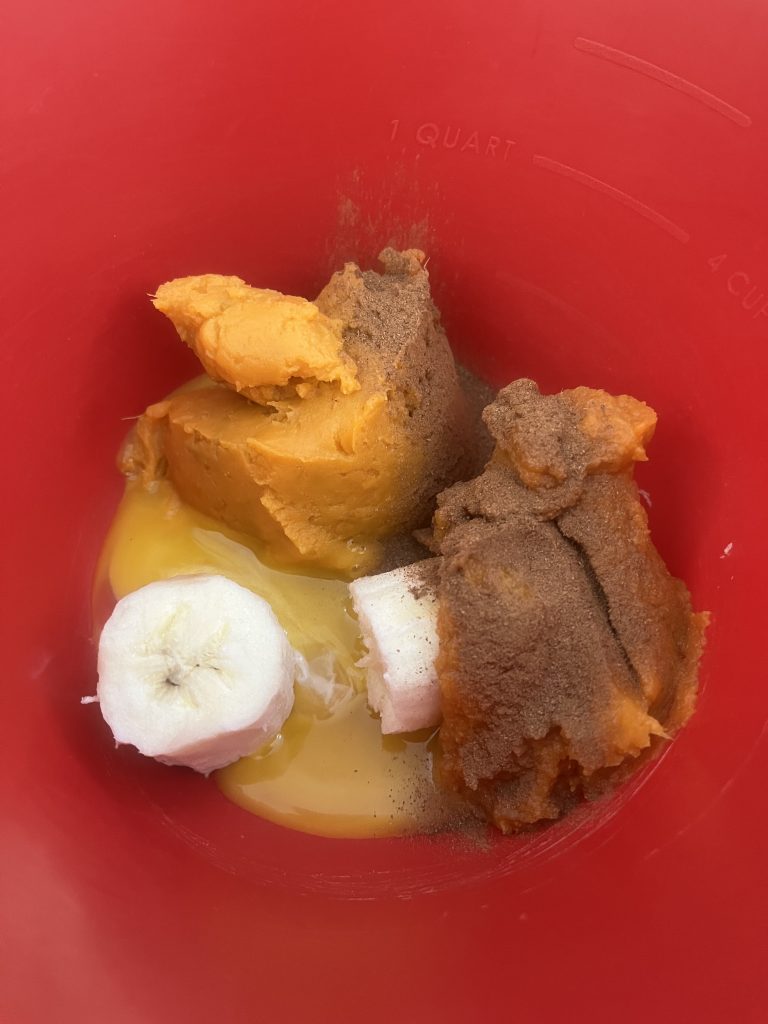 I try to use sweet potato in a decent number of my treat recipes, because not only is it good for dogs, but most really, really like it. My "pupcakes" are no different. I decided to experiment with a new recipe and even a new technique. Did the dogs know that I whipped egg whites to give it lift and an airy texture? Most likely not, but I knew and we got to watch them enjoy their "Boofday" party and that's what matters the most.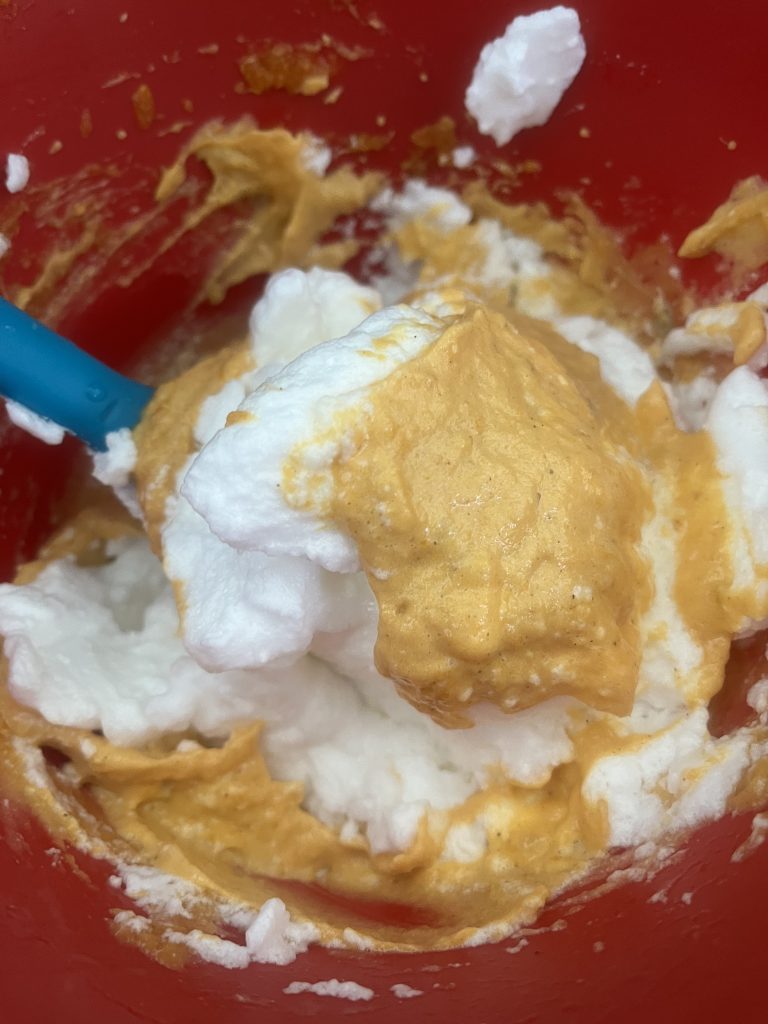 I know I mentioned this in an earlier post, but I feel this bears repeating. I cannot stress this enough: make your sweet potatoes in the slow cooker! Thanksgiving is 9 days away and I plan to have a crock pot out of the way roasting those sweet potatoes for my salted caramel sweet potato casserole. They are so moist and tender when made in the crock pot. I prefer them slow cooked to oven or microwave. Since the oven is a hot spot (no pun intended, I promise!) around the holidays, any oven free hacks are welcome.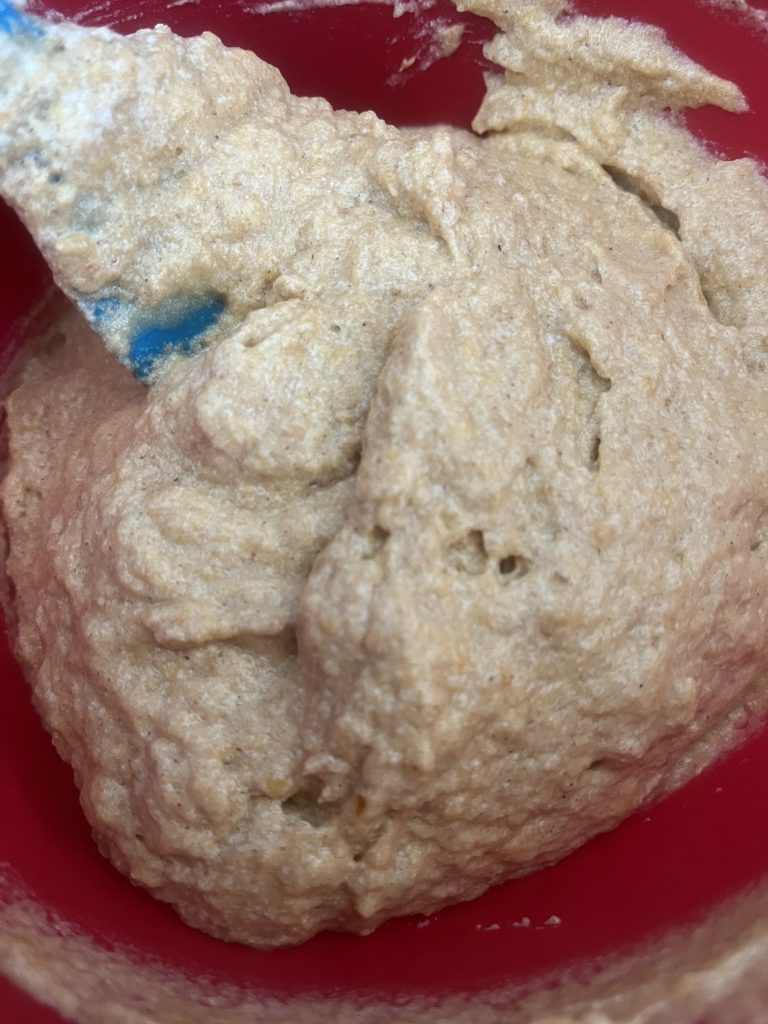 I decided to use pumpkin as well because my mom always makes her pumpkin pie with a combo of pumpkin and sweet potato. Knowing these go well together, I figured the pups should get to enjoy it too! For sweetness, I added half a mashed banana and I also added cinnamon for that "pumpkin pie" smell. You can't use pumpkin pie spice for dogs because there are some spices in it that are harmful for dogs, but a bit of cinnamon is good for them and it will smell amazing while everything bakes!
I am now also trying to steer away from leavening agents in my dog treats. I hear conflicting things, and some of the most reputable places say that a teaspoon of baking powder cooked into something won't hurt at all because any of the leavening agents will have been activated and cooked off. This is true and makes sense, but I am an overly cautious person by nature, so I decided to start omitting any leavening agents that are questionable at all. This is where I got my idea for the whipped egg whites.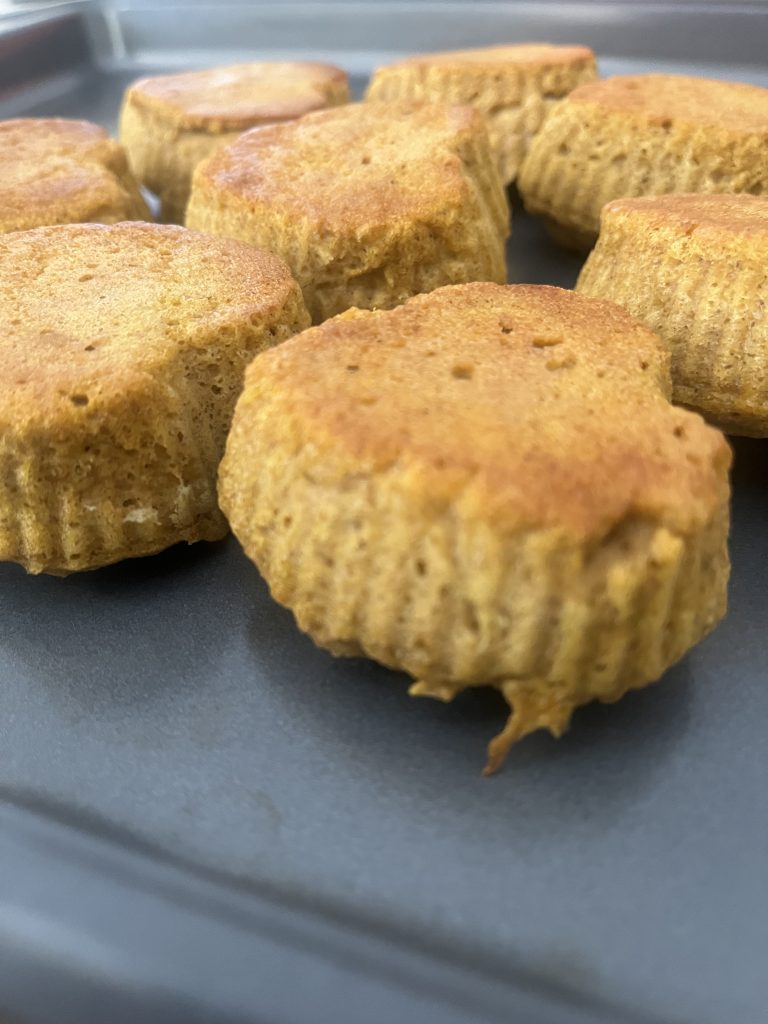 In my humble opinion, eggs are a super food. I don't know what it is, but if I go too long without eating eggs, I start to feel it. They also keep me full longer than almost anything else. They are also super good for dogs. I am using them more and more in my dog treat recipes and it's going over well with my "taste testers."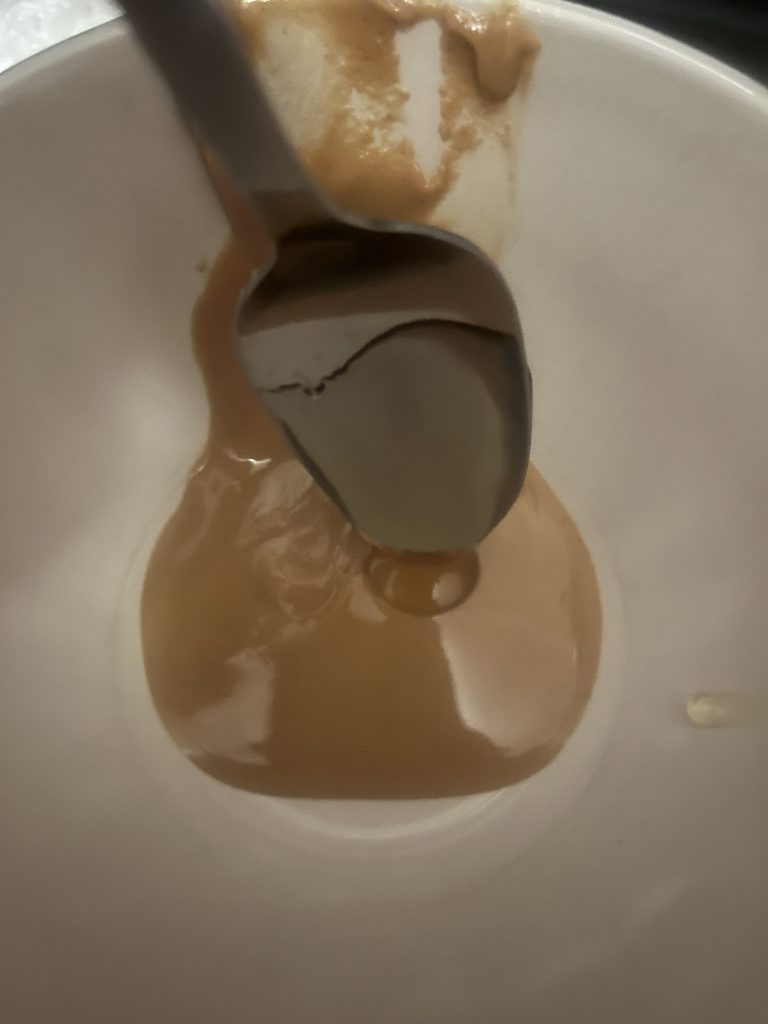 Honestly, I was surprised and impressed with the final results. I kept making the whole family press on the cakes to demonstrate their awesome texture. Everyone was impressed with the pupcakes and so were the recipients, which is what mattered most. A peanut butter honey glaze topped things off beautifully before serving.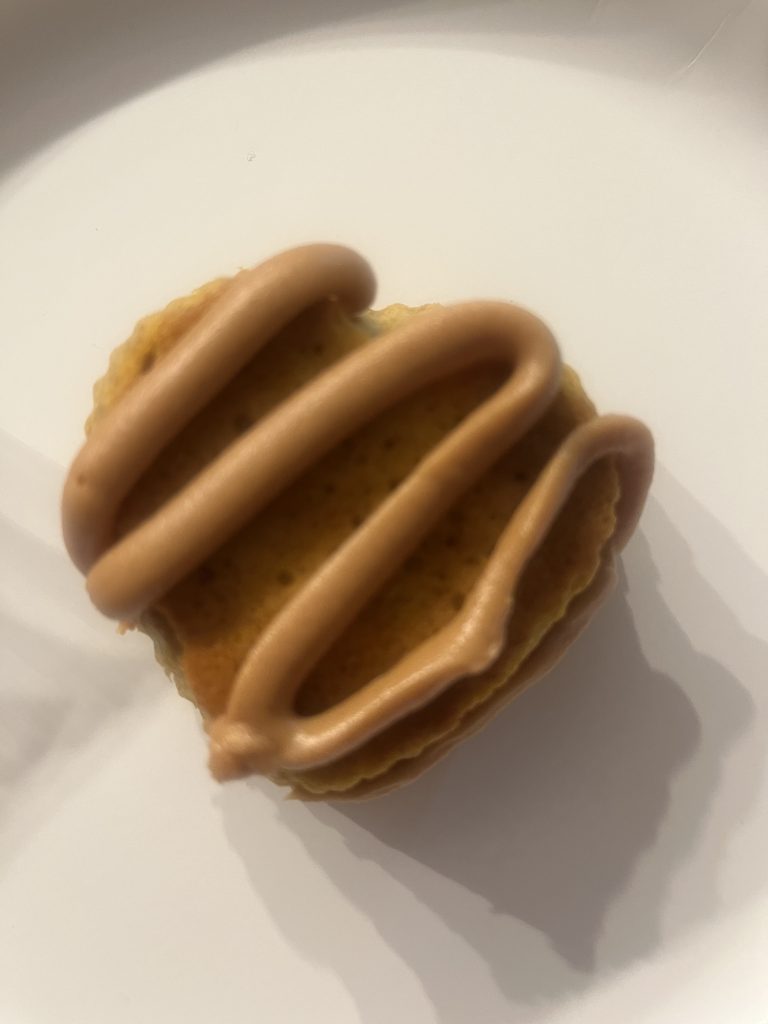 I think I am going to be making these for Karm's next birthday they were such a hit and I plan to use the whipped egg white technique a lot more!
I hope your Thanksgiving is amazing and your sweet potatoes are slow cooked!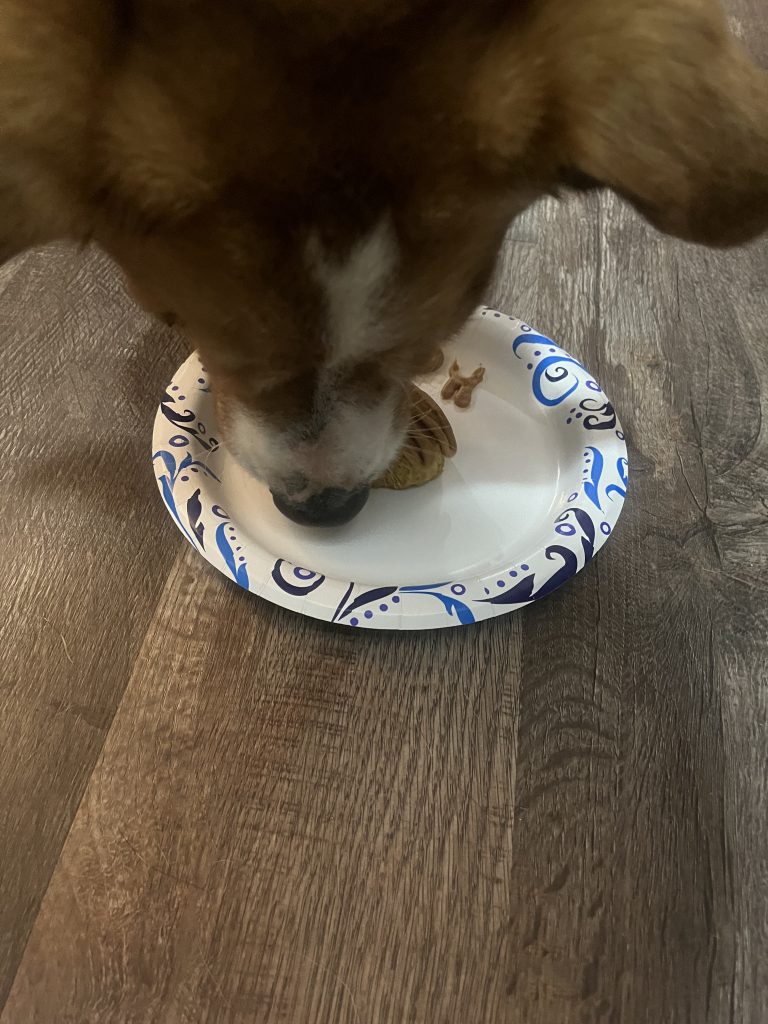 Sweet Potato Pie Pupcake Recipe
1/2 c. mashed sweet potato
1/4 c. pure pumpkin puree
1/2 overripe banana
2 eggs, separated
1/2 tsp. cinnamon
1 /3 c. whole wheat flour
Optional Glaze:
1 1/2 T. NATURAL peanut butter
1 tsp. honey
1 tsp. water
Note: For your mashed sweet potato, you can go the microwave or oven route, but my personal favorite is slow cooked. Wash the sweet potato but don't dry it. Poke holes in it with a fork and place it in your slow cooker for 7-9 hours on low or half the time on high. Check it with a fork. When it is nice and tender, its ready to be removed. Wait for it to cool and then it's ready to use in any recipe.
Separate your eggs and place the withes in a medium, non-plastic mixing bowl and place the yolks in a large mixing bowl (it doesn't matter if this one is plastic or not.) Add the sweet potato, pumpkin, banana, and cinnamon to the large bowl with the egg yolks and set aside.
Using clean beaters, whip the egg whites on a medium to high speed until they reach stiff peaks. Set aside and use your beaters to whip the other bowl of ingredients together until smooth.
Gently fold the whipped egg whites into the other bowl until its all combined. This may take a bit of patience, but it is worth it.
Once it's all combined, gently stir in the wheat flour.
Once it is all together, spoon the batter into lined cupcake tins, or you can grease regular or silicone cupcake molds with a dog safe oil, such as coconut oil.
Bake at 350 for 20-25 minutes or until they are set in the centers. Allow to cool completely.
If you choose to glaze them, microwave the peanut butter for 20 seconds. Stir it and add in the water and honey. Place the mixture in a ziploc bag and cut the tip so you can drizzle it over the pupcakes. I hope your pups enjoy!