What do you do for your very first blog post? I debated this pretty strongly in my head. This is my personal lifestyle blog so I had a lot to choose from. Do I do a list of my favorite eyeliners? The delicious iced coffee I made this morning? A review of my fabulous new earrings? I deemed them all formidable ideas, but I decided to "be the change" and go with one of my personal favorite recipes. Peanut butter and banana is kind of my jam (yes, I also love peanut butter and jam) and I am always looking for new recipes on the web containing my two favorite things. Of course, I stumbled onto the Elvis sandwich and my obsession was taken to a new level. I'm always looking for new takes on this, and like most things, I become obsessed with pinning every possible variation of it! Sometimes, I end up bummed out at the lack of variety I find. My need for more versions of this mysterious sandwich has led me to make my first post my very own recipe based on my favorite foods! I hope you enjoy it as much as I do.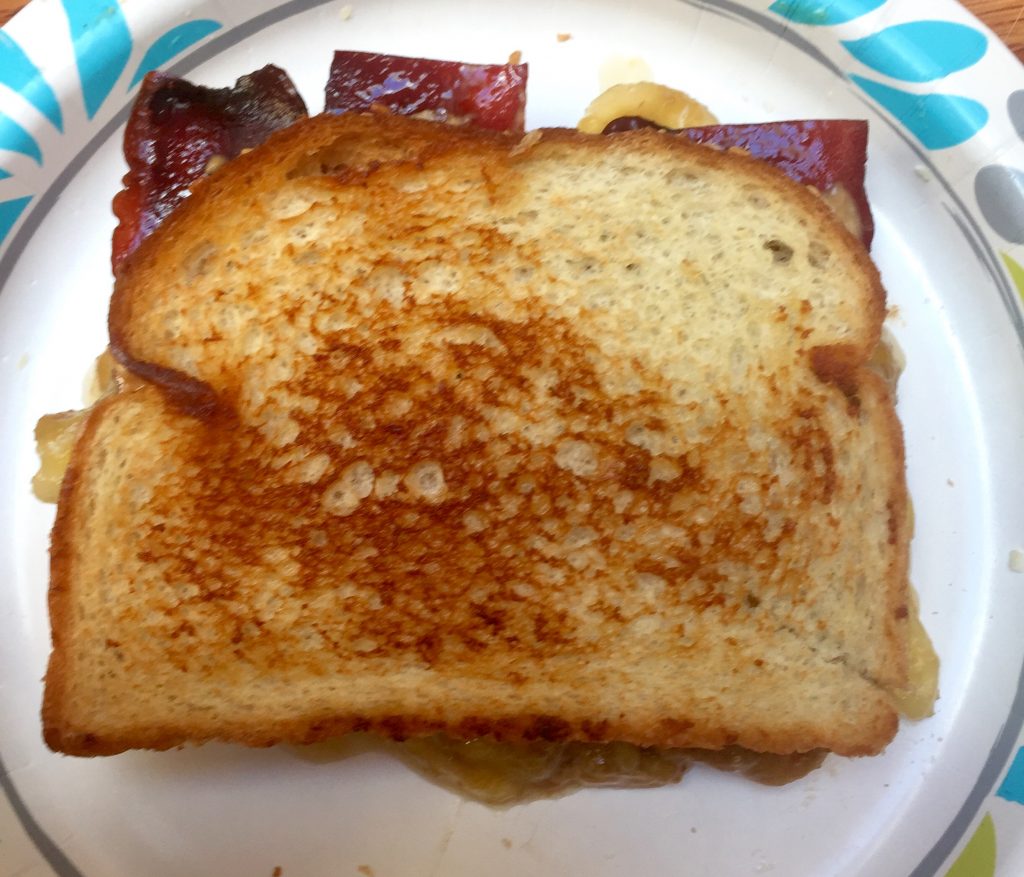 Many of us have heard the legend of "The Elvis Sandwich." Apparently, The King ate a sandwich so amazing he fired up his private jet in the middle of the night, contacted the restaurant owner, and paid him handsomely to meet him at the airport with this sandwich of wonders. Kinda makes you wonder what "Stuck on You" was really about huh?
Just like any legend, there are many versions of this tale and many versions of the sandwich. One version I read described it as a whole loaf of french bread hollowed out and stuffed with a whole jar of peanut butter and another whole jar of jelly. They added fried bacon and banana to it before deep frying the whole entire thing! I would definitely try this monstrosity if I ever got the opportunity, but it's a bit extravagant to make at home. The one thing most everyone can agree on is that this sandwich contained peanut butter, banana, and bacon. To add yet another recipe to this legend, here is my own personal take on the Elvis sandwich.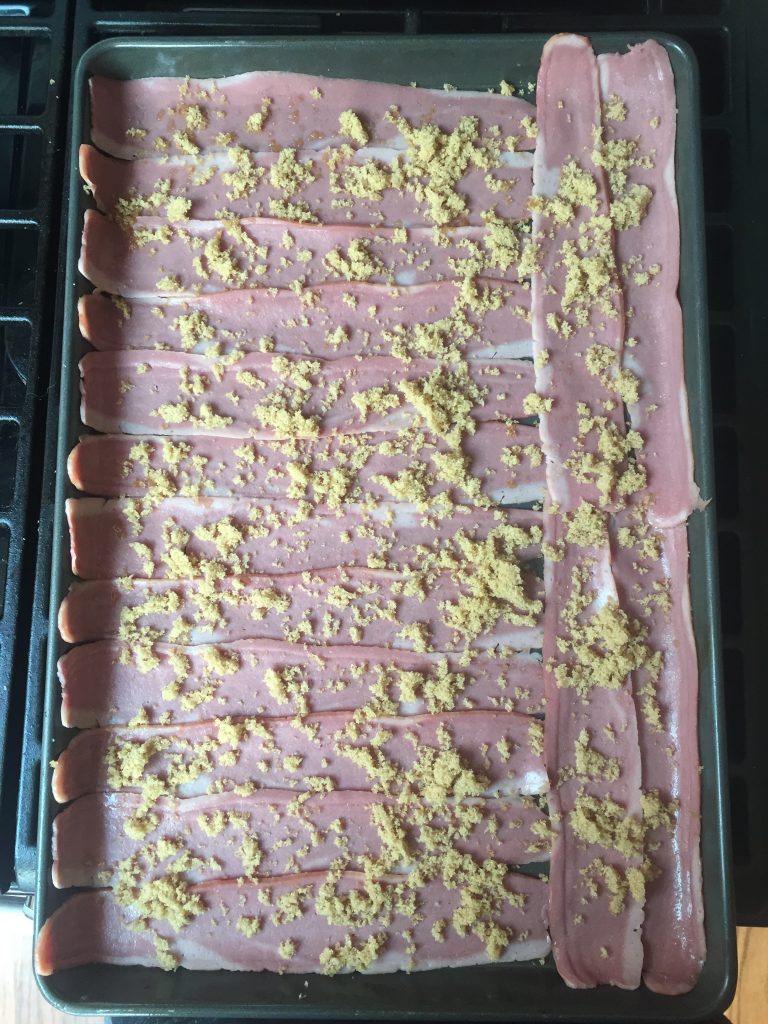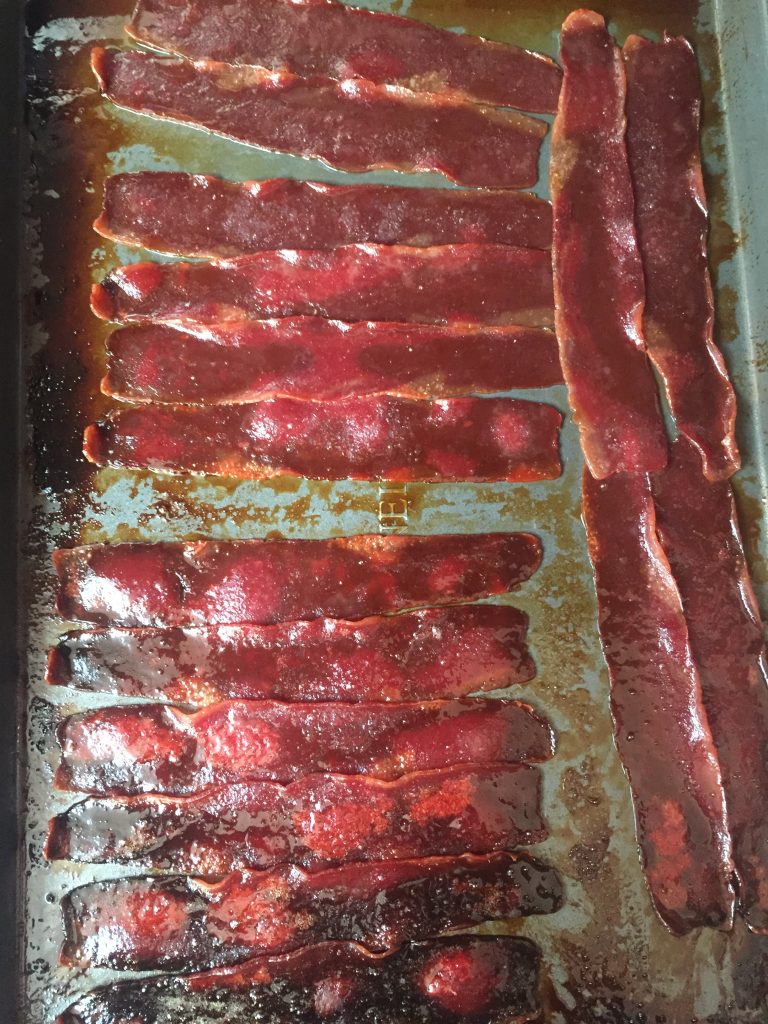 So the sandwich only requires 2 strips of bacon but I had almost a whole pack that needed to be cooked up. If you're making multiple sandwiches, this is a perfect way to do it. You can also refrigerate or freeze leftover bacon.
Admittedly, this is the very first time I made candied bacon. I usually just fry it up in a pan, but one of my customers at work gave me this idea. It's super simple too! Although there is one thing I intend to change next time. See that photo of that crispy bacon and that crispier cookie sheet? Yeah, I had to clean that later. Parchment paper could have saved me a lot of time and elbow grease. For once, take the easy way out! Use parchment paper and live without regrets!
After you line your pan, lay the bacon so it doesn't overlap and sprinkle it with brown sugar. Like most of the time, I didn't measure, I just eyeballed it, but I'm guessing I used around half a cup. Put it in the oven at 400 for 15-20 minutes until it's crispy. Of course you can use any type of bacon you prefer, but I chose turkey because I want this to be a semi-healthy heart attack and I also just prefer a leaner meat. However, my brother judges me strongly for my love of "fake bacon" so I will completely understand if you do too and decide to use pork or beef.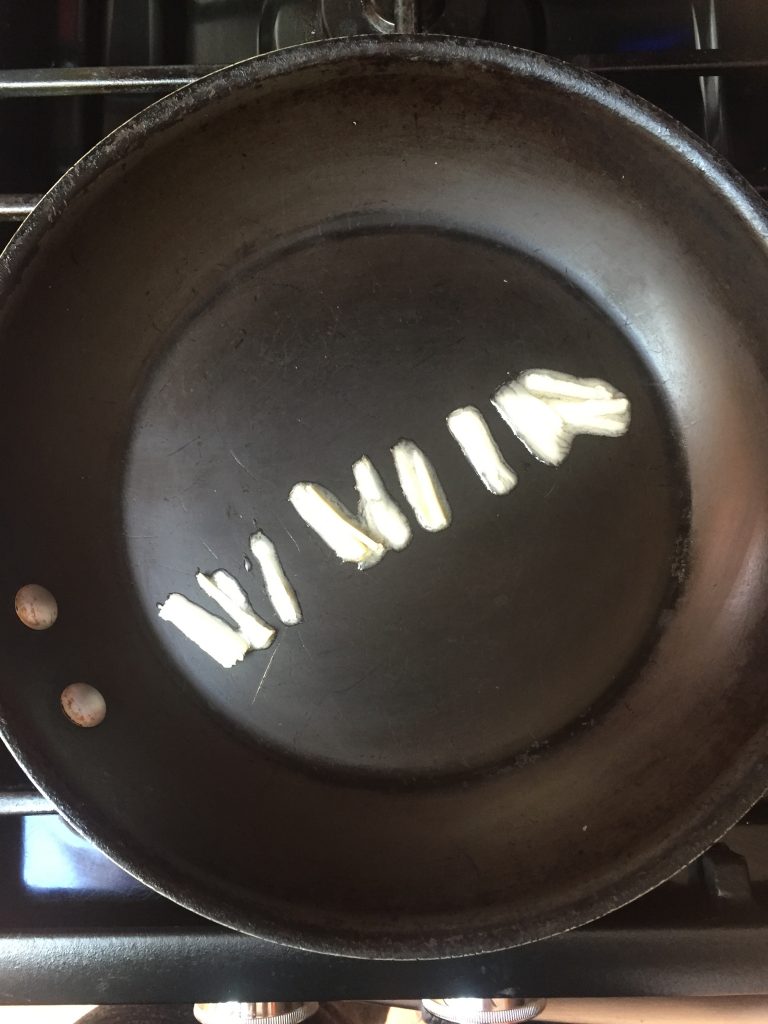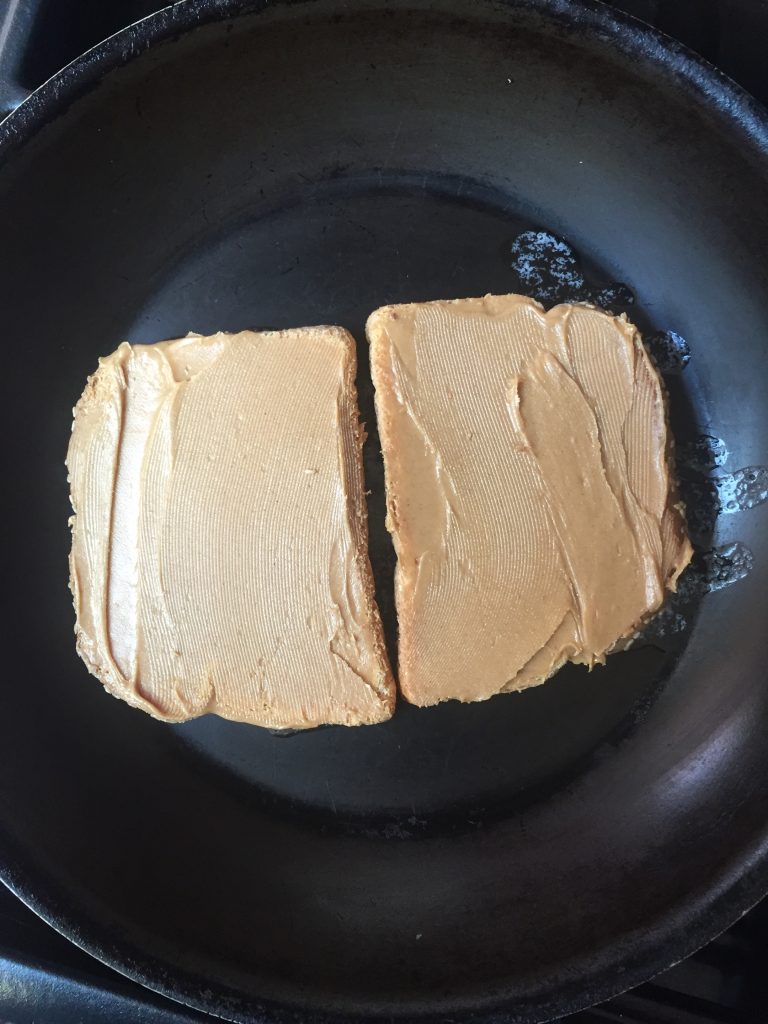 Next, you're going to toast your bread. You could do it grilled cheese style where you make the sandwich, butter both sides, and then flip it, but with all the filling, that doesn't work out very smoothly. Please don't ask how I know this; just trust me on this. To simplify it, spread two pieces of bread with a generous amount of peanut butter and heat about half a tablespoon of butter in a skillet on medium-low heat. It usually takes about 2 minutes, but it never hurts to check it early and give it a little more time if you like your bread toastier.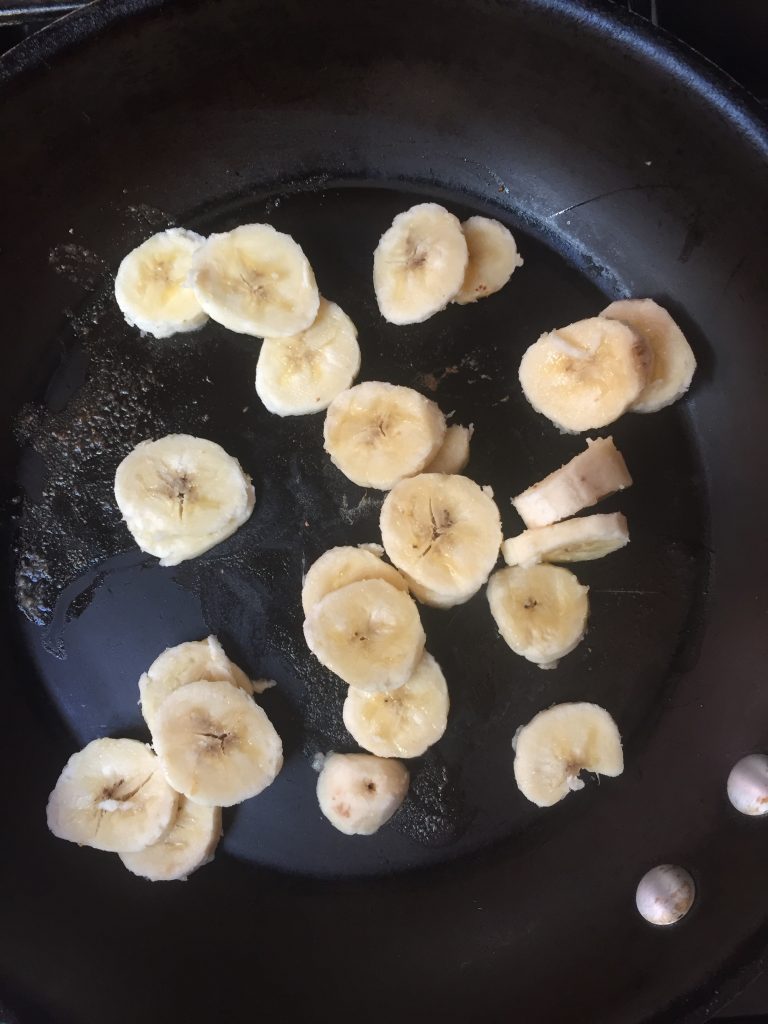 After you remove your toasty bread, slice a very ripe banana and pan fry it for about a minute. I have tried this with yellow bananas and it doesn't work nearly as well or taste anywhere near as good. As a banana ripens, its flavor becomes more intense. If you try this with a banana that isn't quite overripe, it will be almost starchy and a little bit on the flavorless side. Keep stirring it around the pan until it softens up and gets slightly golden in places. Remove from heat and prepare for assembly!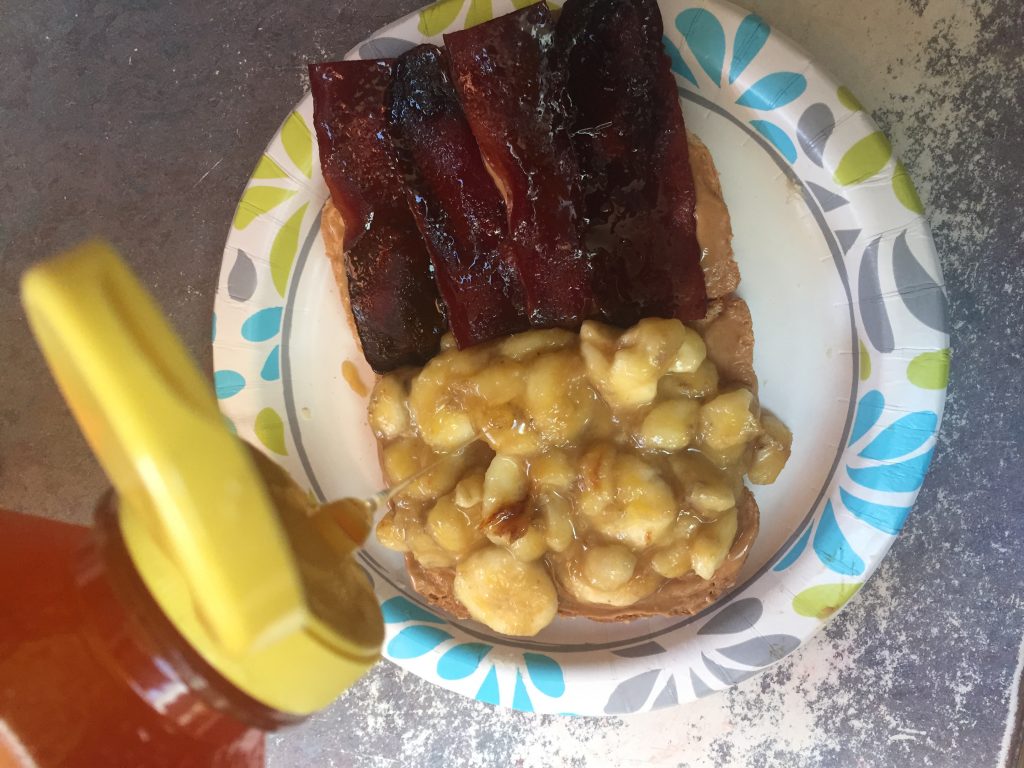 It's time to enjoy our creation! A drizzle of honey brings this sweet and savory creation full circle. The bananas kind of create their own sauce and the peanut butter is nice and warm from toasting the outside of the bread. This warm, gooey, concoction was today's lunch, but it has also been breakfast and dinner. Whatever time of day you enjoy it, I would love to see pictures and hear what your personal spin is on this classic.

The Elvis Sandwich
Ingredients:

2 slices of bread
1/2 T. butter
3 T. peanut butter
2 slices of fried or candied bacon, cut in half (see post for easy candied bacon recipe)
1 ripe banana
drizzle of honey (optional)
In a medium skillet, heat 1/2 T. butter over medium-low heat. Spread two pieces of bread with 1 1/2 T. of peanut butter each and place in the skillet, peanut butter side facing up. Leave bread to toast about 2 minutes, checking often until it's golden brown. Slide the two slices of toast onto a plate and set aside. Next, slice the banana into thin slices and pan fry it in the same skillet for about a minute until it's soft and golden brown in places. Slide the banana off the skillet and onto one slice of the peanut butter toast and arrange the bacon evenly on the other slice. If desired, drizzle a little honey over the bananas and close your sandwich to get ready for the ooey, gooey and completely delicious mess!